Last October I started the 50 Book Challenge off but had to stop after finishing the first book. I've only just realized that because of this I never got to give that one book a review, so here it is.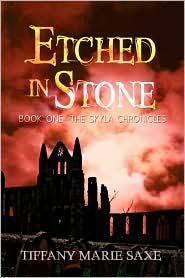 Etched in Stone (Book One of the

Skyla

Chronicles)
by Tiffany Marie Saxe
Strategic Book Publishing (2009)
112 pages
Modern fantasy
Official website:
http://www.tiffanysaxe.com/
5 stars
"
In this fresh twist on a modern-day Phantom of the Opera, sixteen-year-old

Luienna

"

Enna

" Evans runs away from boarding school to Paris, France where she joins a theater company and lives under the roof of the Le Chateaux En

Espagne

Opera House.

Enna's

new life is full of romance, drama and love. But, although surrounded by friends and family,

Enna

often feels alone. When she learns of a mysterious person named

Skyla

connected to the opera house, she delves into the mystery, only to become entangled in its curse as tragedy strikes the company. Can

Enna

unravel the truth in time to save her best friend? And can she find out whose name is etched in stone on a grave marker outside of Paris..."
There are not many bad things to say about this book. In fact, I could quite honestly say it was the best book I read last year - beating out the Twilight saga and Sign of the Zodiac series (all of which I love). However, the summary is something I want to complain about.
"Fresh twist on a modern-day Phantom of the Opera" ... really? That sentence alone was enough to make me want to put the book down before I even started reading. I don't like the Phantom of the Opera, perhaps I should give it another shot but that's besides the point. Etched in Stone was, in my opinion, completely different. Did they both take place at an opera house? Yes. Was there a big mystery at the opera house? Yes. But that's where the similarities end.
Also, the last line of the summary: "And can she find out whose name is etched in stone on a grave marker outside of Paris..." makes no sense. We find out whose name it is in the third chapter. Nothing mysterious about that. I'm putting the blame for these mistakes on the publisher for now.
For the real review: I think the story was very well-written. We follow
Enna
from her boarding school in London to Le Chateaux in Paris in the very beginning, and start meeting the new characters quickly. At first things seemed a little rushed, but everything worked itself out by the second chapter. The author's descriptions - of
everything
from the weather to the opera house itself - were wonderful. I especially liked the decorations in the dorm hallway.
The characters were believable. Perhaps a little eccentric at times, but that's to be expected. I did have trouble keeping track of them at times. I repeatedly mixed up the sisters Karma and
Keela
. I found
Enna
and Jason very
intriguing
and I loved learning about their secrets as well as
Skyla's
. Some other characters I liked were
Enna's
best friend Rain, Nathalie, and
Enna's
little sister Via (at times).
The book is filled with too-long paragraphs and
grammatical
errors. All of which I, again, blame the publishing company for not correcting. Despite these mistakes, I can't give this book a lower rating because there's really nothing wrong with it. The rating is for the story and characters, not the formatting. I would probably think twice about looking at any other books from Strategic Book Publishing, but I'd definitely read more from the author. I mean, she made me cry. I don't cry over just any books, you know.
All in all I loved this book and am in the process of reading it for a second time. It's a short read (I finished it in two days) but a very good one for fans of fantasy or operas. I look forward to the next book in the series. =)
And now, my favorite quote:
"I'm no rose, just another leaf with a few layers and a need for a stem." -
Enna
-----
So, everyone comment and let me know how I did for my first review? I admit, I kinda stole the layout of the review from Ari @ Reading in Color. Sorry.
I'm already reading the first book for this year, so I'll post again hopefully sometime next week when I'm finished.
-Lizzy<3